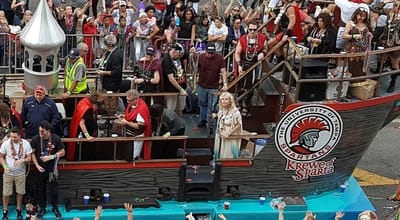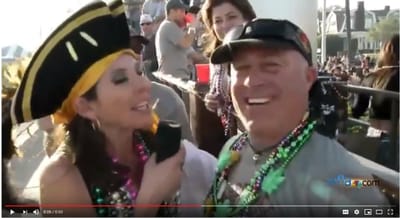 About Our Team
The University of Tampa began participating in the Gasparilla parade in the mid-1990's. In order to preserve a long running presence in the parade, Tampa Alpha, the local chapter of the university's national Alumni association, assumed the responsibility from the university in 2001.
We've had tremendous success since then. The Gaspariilla parade organizer, Ye Mystic Krewe of Gasparilla, has awarded our float four first place awards for associations. Over the years, hundreds of students, alumni, staff and corporate sponsors have joined us for a day of fun and networking.
In 2014, a group of Sigma Alpha Epsilon brothers formed the Royal Krewe of Sparta Corporation to purchase the float from the UT Alumni Association and is committed to keeping the tradition alive while improving the experience for all involved.
Our Mission
The Royal Krewe of Sparta's mission is threefold:
1. To raise friends and foster friendships among University of Tampa supporters.
2. To raise funds to permanently endow a scholarship for University of Tampa
students.
3. To provide a fun, safe, entertaining platform for float riders and their guests.
Gasparilla Festivities
Are you an University of Tampa Alumni, employee or student over the age of 21? We are accepting requests to reserve spots on the UT/Royal Krewe of Sparta float for the 2021 Gasparilla Pirate Parade.
1. One ticket to ride or walk with the float. Beads are provided that can be thrown or handed out.
2. The float is equipped with a bathroom and kicking stereo system.
3. Friday Night Cocktail Party. Join us for pre-invasion cocktails, light food, live music and camaraderie with fellow
alumni from 6 - 10 pm.
4. Saturday Pre-Parade UT Brunch. in front of Plant Hall from 10 am - 12 pm with free parking on campus.
5. Lunch from Alessi's Bakery will be served with kegs, soft drinks and water on board the float.
6. Bus transportation to the float from UT. The parade ends on the north side of the University and we walk back
from there.
7. Toga or Spartan costumes are encouraged. Pirate costumes are NOT permitted. Check our Gallery for more info.
Contact Us
for more information